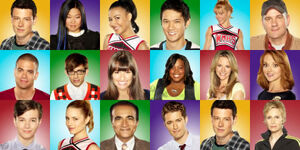 We are looking for a few roles, I believe, such as Mike and Will.
This is just so we can keep tabs on them.
The name outside parenthesis is the username on the glee.wikia of the person, and the username inside the parenthesis is the formspring username, or the status of that particular character.
Blaine Anderson: FrancEngland (Blaineloveskurt)
Kurt Hummel: Immagleek18 (KurtEAnderson)
Rachel Berry: Pig&gleecrazy (ImRachelBerry)
Sam Evans: Gleekjonleaheathernayadianna(samevans2640)
Mercedes Jones:Gleek5 (MissCedesJones)
Quinn Fabray: Gleek4glee (QFabrayxoxo)
Tina Cohen-Chang: Gleefinchelbartie (ItsMeTinaC)
Jacob Ben Israel: BforBerry (JacobBIsrael)
Brittany Pierce: Gossip girl(BrittzPierce)
Santana Lopez:SanLopez (AuntieTana)
Sue Sylvester: (GeneralZodNo1)
Lauren Zizes: Bforberry(LaurenZizes)
William Shuester:
Finn Hudson: immagleek18(Themightyfinn)
Artie Abrams: XMimiii (ItsArtieA)
Noah Puckerman: (ItsPuckzilla)
Mike Chang:LoveYouLikeCrazy(HeadPhonesMike)
Jesse St. James: Gleekjonleaheathernayadianna (JesseStJames1)
We also have crossovers fromm other shows
Tori ,Jade and Cat from victorious
Blair and Serena from Gossip Girl